Transfer Truth: The Truth on Reus to Manchester United
Posted on May 20th, 2014 by Araz Heydariyehzadeh
Manchester United have finally announced Louis Van Gaal is their new manager. But even before he arrived the wheels were turning and the back pages have been full of who is on the way to Manchester to kick start the rebuilding job. So is there any truth to the invisible man of the Old Trafford dug out being on the hunt for Marco Reus?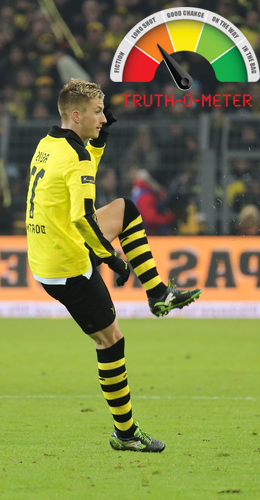 Reus: Truth: 30%
Reus' talents are well known to all in football circles much further afield than Germany. At 24 he has 19 caps (with 7 goals to his name), and can boast similar 1 in 2 goal scoring stats for his 124 career club games and 22 appearances in the Champions League. An excellent winger with a world class striker's goal return. He would fit the bill at any club, but is he really about to throw away guaranteed Champions League football for gamble with Luis Van Gaal?
The Facts
The simple fact is that Reus has denied he wants to move, and committed himself to Dortmund with what appears to be a black and white quote:

It's safe to say I will be playing for Borussia Dortmund also in the 2014-15 season. Basically I do not need to stress all the time that I am feeling great being with the club.
If he'd stopped there it might have been goodnight for this little rumour, but in all classic style of all footballers secretly hankering for a move on to bigger things he just couldn't help himself:

As far as leaving, that is no issue for me, and I am not affected by the transfer release clause. I am now at an age where I have to take the next step up. That means in every game to give even more and to push myself to get better and better.
This second part of the quote almost betrays the the overall message he intended to send out. Whilst he seems to imply that he is committed to Dortmund, he also hints that there is a step up, and it might not be at Dortmund, who stand to lose a couple of key assets this summer, including Lewandowski.
Then he follows up with the magic words that all desperate clubs with deep pockets like to hear "release clause".
The Release Clause
Whilst Reus himself is adamant that even if his unusually reasonable release clause of €35m is met, he still wants to stay, at that kind of price his resolve may really be tested if an offer comes in that not only proved him with the opportunity to join one of the world's biggest clubs, but to also double or even treble his wages.
Many a badge kisser has quickly changed their minds in the face of the sweet temptation and if a bidding war starts for his services the chances of a move could be very high. Reus cut his teeth at Borussia Mönchengladbach and with only a little over 50 senior Dortmund games under his belt it's hard to see how he might have developed the sort of attachment to Dortmund that his quote attempts to suggest. Even if his earlier years were spent in the Dortmund youth team, quotes from the time of his resigning in 2012 hint more at his desire to challenge for honours than of a truly undying love for his home town club.
Truth-o-meter
Reus is saying that he wants to stay, but with an alarmingly reasonable release clause in his contract it's hard not to see a few of Europe's top clubs to try and prise him away from Dortmund and with many potential suitors able to offer the stability and Champions League football that United might lack for the time being, the Manchester club could end up 3rd or 4th in a rather long queue. Even so, a club as grand as United, with a rock star manager on their books will retain most of magic that has drawn many a great player to Old Trafford, especially if that manager is given the kind of funds that will be needed to usurp their rivals in attracting big name players to United.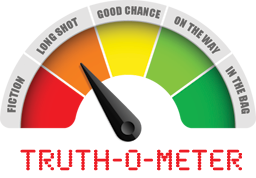 Likeliness of Signing: 30%
Fit at Club: 85%