Transfer Truth: The Truth on Mandzukic to Manchester United
Posted on May 21st, 2014 by Jim Walker
One rumour doing the rounds at the moment is that of deadly Bayern front man Mario Mandzukic departing the German club to join Manchester United or a whole host of other top level English clubs.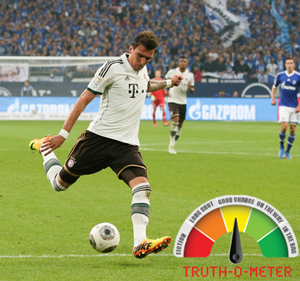 Mandzukic: Truth: 50%
Mandzukic his 26 goals and 10 assists in 48 appearances for the run away German champions last season. His height, strength and ariel prowess make him an ideal target man who may well be suited to the English game. So what lies behind the growing whispers that he may be on his way to old blighty?
The Bust Up
One thing that is known is that Mandzukic was left out of the German cup final after an apparent bust up that occurred following the 4-0 defeat to Real Madrid in the Champions League. In an altercation that has largely been reported after the words "allegedly" Mandzukic was apparently foolish enough to smile (mockingly!) at the manager. This is then said to have resulted in Mandzukic being left out of the squad for the cup final despite being fit and firing.
Further articles have suggested that Guardiola approached Mandzukic and rather than explaining the reasons for dropping him, engaged in an eye-for-an-eye poke by wishing him good luck at his new club.
This whole episode has been the cruddy corner stone of much that has been reported andie appears ludicrous. Unless the British Tabloid (the Daily Star) that "reported" this sequence of events literally has a fly on the wall of the Bayern dressing room then there is absolutely no way of substantiating this tale. even though experience tells us that there is often or kernel of truth to such stories, in this case it might well be a very small one indeed. Especially as an astute man like Guardiola knows that having more than one fantastic goal scorer at your club is critical to any success.
The Lewandowski Logic
There is something else though that does lend it's self well to the notion of Mandzukic moving. The Croatian has played under the considerable shadow of Robert Lewandowski all season. The German league's top scorer is out of contract in the summer it it's almost inevitable that he will be on his way to Bayern, that deal is practically done.
This leaves Mandzukic in a strange position, where he could find his first team place lost to a new player even though he himself was 2nd top scorer in the league and produced 8 more goals than the only other out an out center forward at Bayern (Claudio Pizarro).
You can understand why he may find a place on the bench a bitter reward for a tremendous season, and at 28, being in his prime, sitting on the bench might not be something he fancies. Especially when so many other top clubs would make him the star of their attack. If Mandzukic does move, this is far more likely to be the reason rather than some exaggerated report on an emotional tiff.
Van Persie Presence
The big fly in the ointment comes in the form of Robin Van Perise. If anyone else had been announced as the United manager we may well imagine the Dutchman making a move but with van Gaal in place you'd imagine his time soent working with Van Perise as national team manager would make Van Perise a firm favourite to lead the united line next season and with that in mind it becomes difficult to imagine Mandzukic leaving one Champions league subs bench ti come and sit on another.
Truth-o-meter
Even if Mandzukic is out of favour with Guardiola the arrival of Lewandowski does jeopardise the Croat's first time position at Bayern and he may well be considering his options. Van Gaal has made no comment on the matter but with Van Persie at United a player who wants to move for the reasons Mandzukic might want to is unlikely to hop from once bench to another so that seriously hinders any possibility of him moving to United, so whilst the chances of a move away from Bayern give this rumour a high truth rating of 50%, the chnaces of him joining United remain on the low side with Arsenal or Chelsea more likely destinations at this stage.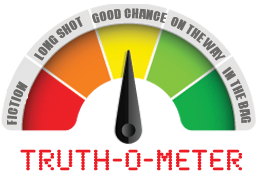 Likeliness of Signing: 30%
Fit at Club: 70%